It's impossible to hide your bump any longer; here's how to tell your supervisors that you'll need some time off.
Working women know that sharing the news of a pregnancy — expected or not — with work supervisors can be tricky. Some bosses are happy for you and will easily shift work around to make up for your absence, but others are less flexible and can appear to resent that fact that your personal life will affect your job performance. As a result, many women dread having The Conversation and put it off as long as possible.
Here are some tips to make it easier to announce the news:
1. Do a bit of grapevine research
How does your company treat women who ask for time off to have a baby? Is your supervisor likely to be happy for you or fairly chill about it? Have there been past instances where pregnant women were sidelined or not treated fairly because they needed time off? What did people say about your pregnant colleagues when they took maternity leave? Was there a perception that Pregnant Employee X was "not committed" to her job?
If you haven't already, get know your workplace culture and the way pregnant employees are viewed and treated. Once you know the typical perspectives, you can plan a way to counter some of the biases (if there are any) with positive messaging of your own.
2. Give advance notice
If your job is fairly intense and requires someone to take your place in your absence, then you'll want to give your supervisors enough time to find and train someone to fill in while you're gone. Out of respect, don't let your boss be the last person in the office to find out that you're pregnant. Once your boss knows, you can tell your teammates and clients.
Also, tell your boss face to face, not over email or on the phone. Some conversations are better held in person.
3. Help draft a transition plan
You may also want to draft some creative proposals for how the work can get done in your absence, or even how you can contribute certain parts remotely from home (if possible). This is also a way to add value. Do anything you can to take some of that responsibility off of your boss' shoulders, finding solutions to problems in advance. It will be appreciated.
4. Don't apologize!
If you share the news of your pregnancy with an air of guilt, apprehension, and anxiety, you just might elicit a negative response from your boss. Remember: everyone in the office was born of a woman. Pregnancy is a gift and a normal part of life, not something to apologize for!
5. In a worst-case scenario, remember you have rights
A lot depends on the workplace culture, but remember that even if your workplace is semi-toxic, you are not without resources. The law is on your side! Discrimination against a pregnant employee is illegal and can be prosecuted in a court of law. So if you end up facing a nightmare of obvious discrimination, begin documenting everything with HR and call a lawyer to discuss your options. Hopefully it never comes to that, but there are cases where it may be necessary.
Unusual cases aside, announcing your pregnancy at work is often easier than you think, especially if you have a plan in place to keep the ball rolling. In the end, the main point is to put yourself in your supervisor's shoes and try to see how to help him or her meet the company's goals in your absence. With teamwork and a good distribution of tasks, it is certainly possible.
Once you have your plan in place and your supervisor knows, the next biggest temptation will be to stay off Amazon during work hours. There's nothing is quite so addictive for nesting moms-to-be as shopping for baby onesies and teensy little socks…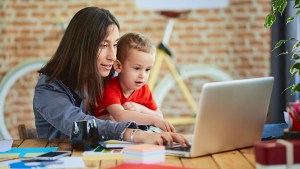 Read more:
When maternity leave ends too soon, "co-working" is a genius solution