Dads are beginning to shoulder more of the childcare at home along with their working wives, but paternity leave is lagging behind.
The United States is one of only eight countries in the world that don't offer paid parental leave for moms or dads. The only US states that offer mandatory paid parental leave are California, New York, and Rhode Island. Only 13 percent of private workers have access to paid leave at all.
Working women and moms need their husbands to have paid leave as well. Whether we work at the office or from home, if we have no other family support nearby, the husband's help with the new baby, and other children in the home, is everything — especially after a c-section!
Yes, the baby has to bond especially with mom – babies remember the sound of their mother's voice and even the rhythm of her heartbeat from inside the womb. But dads also play a key role, and the good news is that they are taking a bigger interest in caring for their babies and being actively involved from the get-go.
A recent Pew Research study found strong evidence of changing trends in dads' involvement in parenting tasks. Naturally, these trends have a direct bearing on working women.
Here are the key takeaways:
Dads see parenting as central to their identity. Actually, dads are

just as likely

as moms

to say that parenting is extremely important to their identity.

Dads are much more involved in child care than they were 50 years ago. In 2016, dads spent "about triple" the time on child care that they spent in 1965.
Work-family balance is a challenge for many working dads. About 52 percent said that it is "very or somewhat difficult" to balance work with fatherhood.
It is now less common for dads to be the sole breadwinner of the family. In 1970, 47 percent of families were supported by the working dad alone. Today, that number has dropped to 27 percent. Most two-parent families with kids have both parents working in some capacity.
The survey offers more insights, but just these first four tell us this: dads want to be more involved, moms need their support, and both of them are struggling with work-life balance. It's not just moms who are exhausted and stressed — dads are, too.
To help working mothers, paid parental leave – for moms and dads — may be the next frontier. We need to find a way to give our husbands a break so they can be the dads they want to be – and so the daily work-parenting load will be more equally distributed.
Things might be changing
The Trump administration has reportedly drafted a budget that would require states to offer six weeks of paid parental leave. So far, there are no signs of any progress on the plan, mostly because there are no specifics about how to implement it yet, but the fact that such a priority is even on the budget at a time of massive spending cuts is good news.
Paid parental leave has also garnered some bipartisan support in Congress (which seems nothing short of miraculous these days).  
And prominent Americans are speaking out, including Melinda Gates. (In 2015, The Bill & Melinda Gates Foundation changed its parental leave program – for both moms and dads – from 12 weeks to 52 weeks.)
In an interview, Gates said, "We have to redistribute the workload at home, and paid family medical leave for men and women helps with that. In the United States, women do five years of unpaid labor their husbands don't do. We do 90 minutes more a day: make the school lunch, help with the homework, fix the breakfast, drive them to school."
She went on to say, "We need to say to men, 'It's okay to go out and to take leave.' Because one of the things that happens when men take leave is that they're more involved in raising the children. It's better for him and it's better for the kids."
Believe it not, paid parental leave is also good for business.
The Boston Consulting Group studied family leave policies at 250 companies and found that generous parental leave policies helped employers to attract and retain talent, improve employee morale, engagement and productivity; diversify leadership teams; enhance brand equity, and better align with company values.
Perhaps the idea of paid parental leave is finally approaching a tipping point.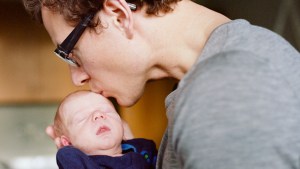 Read more:
7 Ways dads can help their wives once the baby arrives