The phrase sends a strong pro-life, pro-family message to anyone who's listening -- here's why.
For all three of my pregnancies, I never used the phrase "We're pregnant." It seemed too cutesy, the kind of thing you might put on your pregnancy announcement, but not the kind of thing you'd say with a straight face. "We're pregnant" isn't even accurate. The dictionary definition (and common sense) reminds us that pregnancy means having a baby inside of you, and the father, as evidenced by his total lack of uterus, is decidedly not pregnant.
So fine, it's not medically accurate, but it's true in other important ways. I'm starting to see how the phrase actually brings attention to certain truths that are disastrous when they're overlooked. Cute or not, "We're pregnant" sends a strong pro-life, pro-family message to anyone who's listening.
For one thing, it empowers mothers. You wouldn't think so at first. A mother is the one who's going through the fatigue, morning sickness, and more — how is it fair to ask her to share the spotlight with her husband, who's experience of pregnancy is totally abstract? And it's true — we can't ask our husbands to share the aches and pains. But saying "We're pregnant" is actually a way we can remind ourselves that pregnancy was never intended to be a thing a woman goes through alone. It's a way of saying, "These months of heightened hardship and vulnerability? We are bearing this burden together."
The sense of physical and emotional vulnerability that a pregnant woman might feel can be scary. Referring to pregnancy as a shared state of life is a good way to remind yourself that depending on your husband for more during these months doesn't make you weak. On the contrary, it's how families are meant to function.
When a man says "We're pregnant," it comes across ridiculous — and only slightly less so if he puts it more delicately, and just says "We're expecting." A friend of mine says that her husband's taken a lot of flack for having the gumption to use the phrase, even when it's clear that she supports it. I can see why; it looks like he's taking way more credit than he's owed.
Still, coming from the father, the phrase is especially powerful. It says that he considers himself a father already, even before he's met his child. It highlights his own joy in the pregnancy, which he shares with his wife. It reminds the world that even though his experience of being a parent is different than his wife's, he is no less a parent. His body may not be changing, but his life is changing. It's a way of telling the world that fathers are not optional.
It's children, though, more than anyone else, who need to hear parents referring to pregnancy as a thing they go through together. It teaches boys and girls both that a pregnancy is more than just a woman's "problem," that pregnancy is not something men shouldn't be expected to worry about. More than anything, it reinforces the absolutely vital lesson that a child needs both of his parents, from the very beginning of his life.
So yeah, "We're pregnant" may not be medically accurate, but it sure looks like the truth to me — a truth the world could stand to hear more often.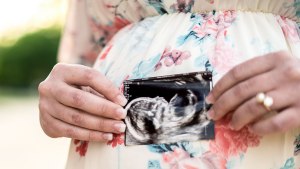 Read more:
The story of your baby's life from conception to birth — in images