Pregnancy and Infant Loss Remembrance Day allowed large numbers of people to share their grief openly.
When it comes to grief, tragedy, and trauma, it's especially hard to find words to express what's in our hearts. That's when an event like Monday's World Pregnancy and Infant Loss Remembrance Day is so powerful — especially to those who carry this secret grief with them through their lives.
Hashtags on Instagram called for #BreakingTheSilence, referring to the taboo that discourages us from talking about our common but devastating sorrow. People posted ultrasound pictures of children they never got to meet, or positive pregnancy tests that were never followed by heartbeats.
https://www.instagram.com/p/Bo999lUAqda/?tagged=pregnancyandinfantlossawareness
Families everywhere participated in the #WaveOfLight, when at 7 p.m. Monday evening, they lit candles in remembrance of the children they lost. And they reminded the world, #Iam1in4, referencing the statistic of how many babies are lost to miscarriage.
Soccer star and mom Sydney Leroux tweeted
"A couple of months ago I lost a baby. I was naive to the pain of what this felt like. 

There was a moment when I was on bed rest where I wondered if the emotional pain could kill me."
She hadn't told people about it at the time:
"So in the later half of the season when I was out 'sick' I was losing our baby. I hate that I couldn't talk about it. I hate that I felt like I couldn't because there was a sense of shame and embarrassment that came with losing a baby. Except the statistic of losing a baby is 1 in 4. Which means there are so many of us going about our day trying to bury our grief and pain … Today we break the silence and honor all of our babies that we lost too soon."
Over at Scarymommy, Amanda Czerniawski recounts the story of her daughter, lost to miscarriage at 22 weeks:
"For a brief moment, I held her in my arms. She was not a 'product of conception' as one doctor had described a day earlier. She had my husband's profile. Her cause of death was never determined, but I do know she was perfect. I recovered well after the delivery — physically that is. My daughter's death destroyed me emotionally and spiritually. Instead of picking out a crib, I picked out a casket and designed a grave marker.

It has been five years since the death of my daughter. I have been silent about my grief for five years because it was inconvenient, uncomfortable, and ugly. I will not be silent anymore."
Blogger and entrepreneur Lindsay Ostrom memorialized the day in a beautiful way on Instagram: 
She wrote: "I'd be so honored to remember a baby with you if you feel like sharing anything — a name, a date, a heart — in the comments. We did this last year, and I read through all the names and cried and sent lots of love to all these little souls, and I will do the same again this year because it feels good to be sad about something worthy of sadness. … Join us if you want — light candles, say their names, know that your (and my) babes are loved and really, really missed."
Ostrom acknowledged that this kind of loss is not easy to talk about. World Pregnancy and Infant Loss Remembrance day is "just a day when it's a little more okay to talk about it" than usual. Hundreds of followers responded to her post, remembering babies lost recently, and babies lost decades ago, remembering siblings they never knew, and grandchildren they never met.
Miscarriage affects all of us. Most families carry the with them the knowledge of a child, a sibling, a cousin, who is missing from their numbers. October is Pregnancy and Infant Loss Remembrance month but let us walk with each other all year long, and not be ashamed of our stories.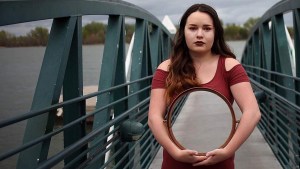 Read more:
These touching images show the pain of losing an unborn child