The world needs women in this role just as much as it needs biological mothers.
When I think of mothers, many women come to mind. I first think of my mom, who fostered a love of reading and writing in my life. My grandma taught me to play piano and sew a dress. The women at the church I grew up in always make sure to say hello when I'm back home for the holidays and my friend's mom had the cool snacks and sometimes let us stay up past our bedtime during sleepovers. In my life today, religious sisters are showing me what it means to love Jesus with my whole heart.
While some of these women are called moms by children they gave birth to or raised, others who have profoundly taught me the depth and beauty of motherhood never raised any children of their own. And some did raise their own kids, but their motherhood went beyond their own home. They are all spiritual mothers in my life — women who have loved me and invested in my story, nurturing my heart and soul.
When it comes to my own story, spiritual motherhood can feel like a consolation prize. Although I'm biologically a mother to Marion, our son, I don't hold him in my arms. Instead, he's in Heaven, interceding for me and his father (and giving us some incredible incentive on our journey to our heavenly home). Being a mom to a little saint wasn't something I expected in my story. And secondary infertility wasn't something I had planned for, either.
Motherhood doesn't always look like what you thought it would.
Do you believe God has called you to marriage, but you haven't found the right person to marry yet? Do you have a little saint in heaven, too? Does the experience of infertility weigh heavy on your heart? Does being a mom to little ones not quite look like what you had dreamed of? Is Christ calling you to be His bride alone, asking you to sacrifice children for a vocation to a religious or consecrated life?
If any of these situations resonate, it may feel like the call to spiritual motherhood is a second-rate motherhood. But that couldn't be further from the truth. Archbishop Fulton Sheen once wrote that "Every woman in the world was made to be a mother either physically or spiritually."
In one of my favorite pieces of writing from St. John Paul II's papacy, Letter to Women, he writes that spiritual motherhood has "inestimable value for the development of individuals and the future of society." He also thanks women for their generosity, a willingness to give themselves to others — especially the most weak and defenseless.
Here are six concrete things you can do to explore the call to spiritual maternity and realize that it isn't a consolation prize — it's a incredible calling from the Father. The world needs it!
1. Don't wait for little ones to start using your maternal gifts

"If motherhood was more about what's in your heart than what's in your womb, I needed to stop waiting for a baby to use my maternal gifts," writes Colleen Carroll Campbell, author of My Sisters the Saints. "I needed to start recognizing the opportunities I already had to nurture growth in others, defend the vulnerable, and make the world a more loving, humane place."
If we're called to mirror Christ's love to the weak and defenseless in our lives, this isn't confined to physical motherhood. In her book, Campbell writes about how her experience caring for her father during his struggle with Alzheimer's gave her an opportunity to live out her spiritual maternity.
What areas of your life are an invitation for you to dive deeper into spiritual maternity? This may come in the form of praying for others, cherishing them like daughters and sons. Maybe Christ is calling you to come alongside someone in your life and walk the journey to heaven with them. Perhaps the Lord wants to transform the cross you're carrying into a bridge to His heart for others in your life.
Similar to the uniqueness of living out the feminine genius, spiritual motherhood looks different in the life of every woman. "In the life of consecrated women, for example, who live according to the charism and the rules of the various apostolic Institutes, it can express itself as concern for people, especially the most needy: the sick, the handicapped, the abandoned, orphans, the elderly, children, young people, the imprisoned and, in general, people on the edges of society," John Paul II writes in his apostolic letter Mulieris Dignitatem. 
2. Mentor young people in your life
Spiritual motherhood isn't the same as biological motherhood, and it's not meant to take over the role of biological mothers. Instead, it's an opportunity to invest in the lives of those around you, especially young people in your life. You can be a source of encouragement, education, and wisdom. Your presence in the lives of kids and young adults in your life can help them realize their worth and dignity as children of God.
"I am called to love the young teen at a conference who tells me he is entering the seminary or some 'kids' the Lord sends me for just a moment," reflects Sister M. Consolata, FSGM. "Whether it's a classroom full of fifth graders I speak to for half an hour or the young woman discerning a vocation to religious life who I'm sent to accompany on a journey for several years. In all of the people Jesus sends me I encounter a piece of His Heart. This is the gift of spiritual motherhood."
3. Tap into the power of intercessory prayer 
Just as physical motherhood offers opportunities to nourish the bodies and minds of children, spiritual motherhood offers a chance to nourish the souls of others. Your spiritual maternity allows you to be sensitive to the spiritual needs of those you encounter. As a spiritual mother, you can offer their needs and prayer requests to the Lord.
One particular way of living out your spiritual motherhood is interceding for the souls of priests and the Church. "The vocation to be a spiritual mother for priests is largely unknown, scarcely understood and consequently, rarely lived, notwithstanding its fundamental importance. It is a vocation that is frequently hidden, invisible to the naked eye, but meant to transmit spiritual life," reads a 2007 document from the Vatican's Congregation for the Clergy.
4. Develop a relationship with your godchildren
If you're a godmother to children in your life, this relationship offers a unique opportunity for spiritual motherhood. Your role in their life as their godmother is to pass on the Catholic faith to them, and assist their parents with this important, beautiful task. Spend time with your godchildren (even if it's on a phone or video call!) regularly. Send them a card on the anniversary of their baptism, or on the feast of their patron saint. But most importantly, pray for your godchildren. You can even offer an adoration hour up for their intentions.
"I have hundreds of children. A few godchildren, but mostly spiritual children, students I've taught and teens I've spoken with at retreats or camps or talks," writes Meg Hunter-Kilmer. "The relationship I have with these kids of mine is sometimes just a few hours long and sometimes lasts for years and changes us both. I call them my kids because I am their mother – one of many mothers they have, God willing. I call them my kids even when they're 25, because when I say that I don't mean that they're children. I mean that they're mine."
5. Be an engaged and involved aunt 
Growing up, I loved spending time at my grandparents because it meant I was able to see my aunts. Do your siblings have little kids running around calling you "aunt"? Take time to be an engaged and involved aunt to your nieces and nephews. Swing by the house for dinners, celebrate birthdays, and keep up to date on the activities the kids are enjoying.
No nieces or nephews yet? "Aunts and uncles don't necessarily have to be related to be influential," writes Monica Leftwich. "Over many years, I've taken on the role of 'aunt' to several children I'm not related to. When I do chat with them, these beautiful little girls recall the fun times they had with 'Miss Monica.'" Maybe there's a family who goes to your parish who would love to have your help with their little ones at Mass. Don't be afraid to get to know families with kids and offer your help — it can be a huge blessing to not feel alone as a parent raising little souls!
6. Entrust your spiritual maternity to Mary
"Everywhere the need exists for maternal sympathy and help, and thus we are able to recapitulate in the one word motherliness that which we have developed as the characteristic value of woman," writes St. Edith Stein. But the maternity Edith wrote about isn't just found in physical motherhood. "The motherliness must be that which does not remain within the narrow circle of blood relations or of personal friends; but in accordance with the model of the Mother of Mercy," she continues. "It must have its root in universal divine love for all who are there, belabored and burdened."
It is the Blessed Mother who gives us an example of what spiritual maternity looks like in ordinary, daily life. At the foot of the cross, Mary accepts the mission to be the spiritual mother to us all. It is for this reason that St. Pope John Paul II encourages us to trust Mary along our journey to her son. "Entrustment is the only response adequate to the love of a person, in particular to the love of a mother."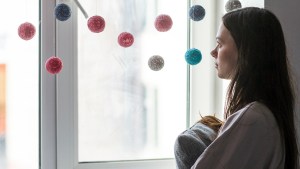 Read more:
Infertility for a Catholic woman is an invitation