The simple act of a long embrace has more benefits than I imagined.
My husband and I recently went through a bit of a rough time — we'd been stressed out by some issues in our extended family and a few of our own general annoyances with one another and we started to drift apart — he toward his hectic work schedule, me with the hundreds of things a mom of three must do each day to keep a family in order. We had been bickering and realized we needed a boost. So, we went to see a marriage counselor in order to try to reconnect and strengthen our relationship.
At our first meeting with her, she gave us some pretty simple yet profound advice. She advised us, with a twinkle in her eye, to spend the first 30 seconds when my husband got home from work hugging. I must admit, when she said this I had to fight the urge to roll my eyes — we had real issues! I wanted psychological analysis, I wanted her to tell my husband he was wrong about a certain point of dissension, and I wanted more than a simple hug.
But my husband was totally on board with this suggestion — and he dutifully came home each day and asked for his hug. I'll admit many days I'm sure I didn't look very huggable — when he comes home, I'm usually in the middle of cooking dinner — fussy baby on one hip, whining toddler clinging to the other, exasperated frown clouding my face. Often times, the last thing I want is another person touching me. Nevertheless, each day he faithfully brings in his work bag, says hello to the kids and comes straight to the stove for an embrace. And you know what? This small act of faithfulness, of stopping what we're doing and turning towards one another in the midst of one of the most stressful times of the day, truly has changed our relationship.
Scientifically, it makes sense. When you hug a loved one, oxytocin — often referred to as the "bonding hormone" — is released into your bloodstream, giving you ample health benefits. Hugging your partner can lower stress hormones cortisol and norepinephrine, lower blood pressure and heart rate, and even boost immunity. Tiffany Field, director of the Touch Research Institute at the University of Miami School of Medicine explains, "When you're hugging or cuddling with some one, [he or she is] stimulating pressure receptors under your skin in a way that leads to a cascade of events including an increase in vagal activity, which puts you in a relaxed state." One theory is that stimulation of the vagus nerve triggers an increase in oxytocin levels. One study observing the effect of partner support between spouses/partners showed that after a short period "warm contact," both parties felt more supported and had higher levels of oxytocin and lower blood pressure.
My husband and I obviously haven't done a scientific study, but anecdotally, we wholeheartedly agree with the research here. We've both come to look forward to our little "reunion" ritual, and now we've started giving extended hugs before we head out in our respective directions each morning, too. We're much less prone to bickering or nit-picking after a long hug at dinner time, and the hugs often give us both a boost in loving feelings for each other. Our after-work rendezvous are strengthening our whole family, in fact — our kids love watching us embrace. They often put down their toys or homework and join in, making for a big, cuddly, sweaty family hug. The smiles on their faces and the long moment of complete peace between all of us are evidence that a strong marriage is good for the kids, too.
The hug is a small thing, and indeed it may release some bonding hormones into the mix, but truthfully, I believe that the act of showing faithfulness to one another is what has stimulated a new sense of growth in our marriage. We may not always feel like sticking together, like being kind to one another or embracing each other — faults and failures included. But when we remain true to our vows and show love and faithfulness even when we don't have the desire to, our feelings follow.
Showing love actually produces loving feelings. So go ahead, try it and see for yourself. When reuniting with your spouse after a long day of work or obligations, put down what you're doing, and for 20 or more seconds, just give them a hug. It likely won't fix everything or make every issue magically fade away, but it'll give you a boost, remind you why you married your spouse and stimulate some loving feelings, and that's a wonderful place to start.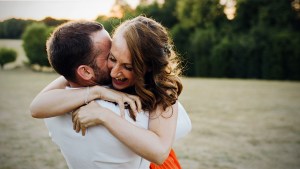 Read more:
How hugs can improve your health