An archbishop who was a leader in the Colombian peace process explores what peace really is, and how to get it
On the occasion of the opening of the General Assembly of the United Nations, the Holy See Mission to the United Nations sponsored a Prayer Service for the United Nations Diplomatic Community and personnel, together with religious and ecumenical leaders in the New York area, on September 17, 2018.
la suite aprés cette publicité
This year Archbishop Luis Castro Quiroga of Colombia, the former President of the Colombian Bishops Conference and one of the leaders in the Colombian Peace Process, gave a  meditation on the 10 elements of peace.
la suite aprés cette publicité
We provide his insightful reflection here:
la suite aprés cette publicité
* * *
la suite aprés cette publicité
First, PEACE IS A GIFT FROM GOD: The Bible speaks to us about peace, Shalom. Above all, peace is a blessing from God, a gift and not an imposition. God offers this blessing of peace and He wants us to receive it.  Accepting His peace is a sign of wisdom. A central theme of Pope Francis' during his visit to Colombia last September was peace. He spoke about peace 42 times in his addresses and led all Colombians in praying for this gift. We are here tonight praying for this gift for war torn regions throughout the globe.
Second, PEACE CALLS FOR A DIALOGUE: Real peace cannot be imposed by force. Peace begins to come alive and to take shape at the negotiating table with a sincere and truthful dialogue. In Colombia, the dialogue finally led to a peace agreement. With hard work, much determination and many prayers, the peace accord has been implemented step by step.
Third, PEACE DEMANDS DEDICATION: Peace can be as fragile as life itself. Therefore, care should be taken to nourish it. Peace demands the same concern and level of dedication that parents should provide for the growth of their child.
la suite aprés cette publicité
Fourth, PEACE IS A DEFENSE OF LIFE: Peace is not passive but dynamic. Peace expresses itself in defense of the life of the more vulnerable. It may be the poor, the sinner, the sick, the victims of violence, or children. This defense is a revolt against selfishness, greed, injustice or against anything that may harm human beings.
la suite aprés cette publicité
Fifth, PEACE HAS A DUAL ASPECT:  There is an inner peace and an exterior peace. Inner peace leads to exterior peace and exterior peace nourishes inner peace. The absence of interior peace leads to rivalry, envy, vengeance and resentment. Exterior peace is required in our social, human and ecological spheres. Without exterior peace, inner peace is incomplete and superficial, a sort of artificial isolation from the rest of reality. These two sides of peace cannot be separated. Both must work together.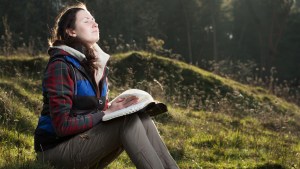 Read more:
How to find interior peace in prayer
Sixth, PEACE BRINGS JOY:  Peace brings deeply-felt happiness. This feature of peace often does not get much attention, but existentially it is the most desired outcome. A happy human being is a person at peace.
Seventh, RECONCILIATION WITH GOD AND OTHERS: Reconciliationis God's merciful action to make us His friends. God is the subject of reconciliation. "The horizon of reconciliation is as ample as the width of the whole of creation." Therefore, we should welcome God's offer of reconciliation for the sake of the world. Peace is the arrival point and fruit of reconciliation.
la suite aprés cette publicité
Eighth, TRUTH IS A PATH TO RECONCILIATION: Thevictims of the war in Colombia expect Truth, Justice, Reparation, and no Repetition. We cannot allow the truth to be hidden. This is the reason why we support both the Commission for Truth and the Special Jurisdiction for Peace. Jesus said, with words one does not need to be Christian to appreciate, that the "Truth will make you free," (Jn 8, 32). The South African Commission for Truth had as a motto, "Truth, the path to reconciliation."
Ninth, JUSTICE WITH MERCY: In the Hebrew Bible, the prophet Amos (5:24) said that there are two different types of justice. One type is justice applied with the full weight of the law (mispat) by a Judge of the court. The other type is justice that incorporates the weight of mercy (Sedaqa) as applied by those who are Wise. Pope John Paul II once said that Justice that is only justice soon will stop being justice and become injustice. Cicero's aphorism was Summum ius, summa iniuria, indicating that rigorous law is often rigorous injustice and can cause great harm. For justice to be true justice, it should have something more than strict penal justice; that something more is mercy. Transitional justice is closer to this second type of justice. It is neither impunity nor ordinary penal justice. Justice with mercy makes possible the transition from war to peace.
Tenth, PEACE BUILDING: The United Nations works with two concepts of peace: PEACEMAKING and PEACEBUILDING. Peacemaking implies putting an end to war by means of accords. Peacebuilding suggests a new construction with a new and solid foundation. Peacebuilding has three elements: An ethical foundation of honesty, freedom from corruption; a spiritual foundation of forgiveness and reconciliation; and a cultural foundation to encourage a fraternity and a true "culture of life."
I would like to illustrate this point about the ethical, spiritual and cultural foundations of peacebuilding with a story.
A man went out hunting in the forest. Suddenly, he saw a gigantic shadow and got ready to shoot. He looked more carefully and saw that it was the shadow of a human being. He thought, "It must be an enemy" and prepared to shoot. He looked again and realized that it was the shadow of his brother, who had also gone out to hunt. They embraced each other.
This change of perception from animal to human and from human to brother is what we need in Colombia and throughout the world so that all of us can become a true United Nations, united in peace and in fraternity.