The 6th movie based on Louisa May Alcott's charming classic is coming to theaters next weekend.
Next weekend, a little movie called Little Women will roll out to theaters nationwide. Perhaps you've heard of it. After all, you've only had the last 150 years for it to cross your radar.
Louisa May Alcott first published Little Women (really, just the first half of the book we know today; the second half was originally a sequel called Good Wives) in 1868, and it's almost a miracle that it ever made it to print. When her publisher, Thomas Niles, first approached her with the idea of writing a book for girls, Alcott wasn't particularly interested. Only after Niles also offered her father — a semi-famous but rather impoverished philosopher — a contract did she throw herself in the work. But when she sent the first several chapters to Niles to look over, both he and Alcott herself felt they were rather dull.
But she didn't give up. "I work away and mean to try the experiment," she wrote at the time, "for lively, simple books are very much needed for girls, and perhaps I can supply the need."
Boy, did she.
Readers, especially girls, were utterly besotted with the saga of the March girls — shy homemaker Meg, headstrong writer Jo, gentle musician Beth and poised artist Amy. It was unlike any other book of the time. Famed Catholic writer and wit G.K. Chesterton said that the novel's naturalistic feel "anticipated literary realism by 30 years." The first edition sold out weeks after it was released, and it's been in print ever since.
The book has even spawned an entire entertainment cottage industry. This year's modernized version of the story, starring Sarah Davenport, Allie Jennings, Lucas Grabeel and Lea Thompson, is the sixth movie to be based on the book (not including two silent versions that came out in 1917 and 1918). The 1933 version helped rocket a young Katharine Hepburn to superstardom. In 1949, the story featured June Allyson and a young Elizabeth Taylor. In 1994, Winona Ryder anchored yet another version. She starred as as Jo, an 11-year-old Kirsten Dunst as Amy, and Christian Bale as Jo's besotted best friend Laurie. Each film was a critical and box-office success.
And next year, a seventh version — this one directed by Lady Bird director Greta Gerwig — will star Emma Watson, Saoirse Ronan, and Meryl Streep. And this is to say nothing of the television series, plays, musicals, operas and even a 1980 Japanese anime series the book inspired.
Why has Alcott's semi-autobiographical story retained its hold after all these years?
Literary critics have attempted to answer this very question for generations, and all seem to come to different conclusions.
Some have read Little Women as a sweet, sentimental story, full of traditional values and delightfully Victorian charms. Some attribute the runaway success of the 1933 Hepburn version — released during the worst of the Great Depression — to its old-fashioned wholesomeness. It also came out when the film industry was coming under increasing scrutiny for its tawdry, immoral film offerings (sound familiar?), and some actually made the flick itself part of school curricula.
But the March girls were hardly the model of mousy homemakers. They were fiercely independent — writers and artists and musicians. Alcott herself was a strong supporter of women's rights (in an age before women had the right to vote), and she strongly resisted readers' pressure to marry her book-based alter-ego to her charming friend, Laurie. "I won't marry Jo to Laurie to please anyone." (Alcott never got married herself, and thought Jo would be just fine staying single as well. But Jo eventually did get hitched to the improbable Professor Bhaer.)
It's perhaps that curious blend of traditional femininity and strong independence that have drawn readers to Alcott's most famous work. Just as girls could see themselves in one of the March sisters, so could they identify with all of them, exploring, as readers were themselves, what becoming and being a woman really means.
"I think a novel about young women finding their voices and learning to sing is totally relevant," Heidi Thomas, who brought a television adaptation of the book to the BBC last year, told Signature regarding Little Women's durable, surprisingly elastic charm.
In her book Meg, Jo, Beth, Amy: The Story of Little Women and Why It Still Matters, Anne Boyd Rioux suggests its continuing appeal is rooted in its paradoxical complexity: "because of the power of its 'lessons' about balancing family and career, individualism and selflessness, and the value of (truly) companionate marriage," writes Sarah Blackwood in her review of the book in The New Republic.
In Rioux's book, author Erica Jong says that Little Women "told me women could be writers, intellectuals." But it also told women that they could live fulfilling lives as wives and mothers, too. Meg's choices are no less honorable than Jo's.
But perhaps a friend of mine sums up the greatest secret of Little Women. When I asked her why she loved the story so much as a girl — and why she still loves it — she said, simply, "It felt like we had something just for us."
Good literature for girls, as Alcott herself suggests, was rare in her day. And perhaps, in its own way, it still is. Some of it can be patronizing or preachy, pushing girls one way or another. But perhaps the genius of Little Women is that it allowed its characters to be just who they were — and to have different dreams of who they wanted to be. That's something that everyone can relate to.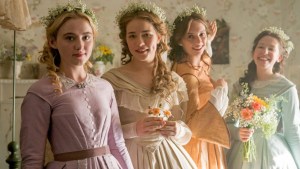 Read more:
What 'Little Women' can teach us about masculinity