Get your kids involved with their new sibling, before she's even born...
Kids can get used to anything, even the outlandish idea that "mommy has a baby in her belly." But you can still help your pregnancy feel less abstract and more exciting by getting them used to their new baby brother or sister well before the baby arrives. That way, when the baby's born, the whole family is already used to her presence in their lives.
Here are a few ways to get your kids involved with their new sibling, before she's even born…

Talk about names together
You don't have to let them name the baby. If you're feeling especially trusting, you can put the middle name up to a vote (do retain veto power, though). Still, your kids can be a big part of the name conversation, whether or not you've found out the baby's sex. Talk about which patron saints you love, and why, or ask them for suggestions within certain categories — "I like the idea of flower names for girls," or "What are some unusual Irish names?" Look through books together. When you settle on one, explain why it's meaningful to you. When you pray together, ask the baby's patron saint to pray for you too.
Everyone gets to help decorate the baby's room
If you have a name picked out, make a sign together welcoming the baby. Can they help paint, or do they have a stuffed animal to donate to the baby's crib? It's nice, if you can, to set up the room ahead of time, so it's waiting for the baby, whenever he might come. It's a very concrete reminder the the baby is already a part of the family.
Give them as many physical reminders as possible
When the baby gets bigger, call them over to feel the kicking, and when she's bigger still, try to guess which lump is the butt, and which is the head. (Personally, I could never figure that out.) Borrow or buy a home Doppler, so you can all hear the baby's heartbeat — or, believe it or not, there's an app for that now. You and the kids can measure your belly every week, and chart it as a kind of horizontal growth chart, too.
Teach them how to take care of the baby … by taking care of you
Even little kids can bring you snacks and drinks "for the baby," and you can explain that every time your family takes care of you, they're helping you take care of the baby. Are they keeping quiet so you can take a nap? That's good for the baby too. Dad and the kids can bring you — and the baby — breakfast in bed to mark the day your due date gets a month closer, as a way to count down the time, and celebrate the baby's presence among you.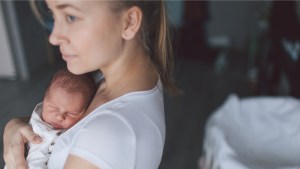 Read more:
Before bringing your new baby home, read these 6 tips