The specifics might be different, but these women say it boils down to these two things ...
When I was trying to gather a good list of tips on coping with the various challenges of pregnancy, I didn't want just anyone's advice — I wanted to hear from moms of big families. I wanted to hear from the kind of mom who can give a rundown of three phases of labor in her sleep, the kind who has to get really creative naming her newest child, since she's used up all her favorite names on the gaggle of older siblings. You know.
I don't know what I was expecting … Maybe some tips on how to find shoes that fit, or a never-fail recipe for breakfast that stays down? But I'm scrolling through the reams of eager, helpful advice, and I realize that all of them (and I got a lot of responses) are all just giving me different versions of the same two rules.
They said, "Use paper plates without shame," "Takeout!" and, "Lots and lots of TV for the toddler!" They said, "Do the minimum, and avoid taking on any big projects … Don't say you're going to potty train the toddler before the baby is born. Don't vow to have a picture-perfect nursery. Don't try to reform all your bad habits or become a better cook or have the perfect diet …"
So that's rule number one: Lower your standards. These women didn't jump in to recommend smarter ways to get more done, when you are feeling worn out and depleted. Instead, they eagerly reminded us that it's okay to do less. It's okay if life doesn't live up to your perfect vision for it. Pregnancy is temporary, and a messy house and a three-year-old in diapers aren't the worst things in the world.
The rest of the advice looked like this:
"It's not being spoiled if I make an effort to eat right, drink water, move around, do the things that make me feel mentally and emotionally stable."
"One of the most generous and hardworking women I know had 16 children. She made it an ironclad rule to have a nap every afternoon and a bonbon when she woke up."
"Keep telling yourself how what you're doing just by carrying the baby does count, is valuable, is a real reason to ask for help and cut corners in reasonable ways."
"Keep on imagining how much is going on *inside* you, and how much energy that takes, if you ever feel lazy or useless."
So that's rule number two: Be good to yourself, because being pregnant is serious work.
Everybody's pregnancy brings different challenges, and the weirdly shaped body pillow that was perfect for your body might make another woman feel totally claustrophobic. Your family has different needs than mine does and vice versa, and in some ways, comparing pregnancies is fruitless. But these two rules are for all of us, because all of the work of pregnancy goes on (literally) under the surface, and as easy as that work is to ignore, we owe it to ourselves to take it seriously.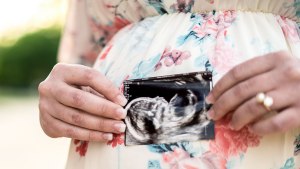 Read more:
The story of your baby's life from conception to birth — in images