We know you have the best of intentions, but here are some tips to building the best relationship with your adult children and their spouses.
Mothers-in-law are the source of endless mirth — as the butt of jokes, unfortunately.Of course, those jokes deal in stereotypes and caricatures, but there can be a germ of truth in them; plenty of young wives lose sleep over meetings, dinners, or holidays with their mothers-in-law.
I decided to ask my friends, acquaintances, and relatives about what bothers them, worries them, or simply annoys them about their mother-in-law's behavior. I also searched internet forums and social media groups focused on difficult relationships. My goal wasn't simply to collect a bunch of complaints, but rather to offer mothers-in-law a well-founded guide to some behaviors they should avoid in relationship to their sons- or daughters-in-law.
Don't criticize their clothing
Let's start with a light topic: commenting negatively on the appearance or clothes of your daughter- or son-in-law. It shows a lack of tact on your part. You wouldn't tell any other guest in your home that they're dressed inappropriately, right? It's also not very nice to point out all the changes (especially the negative ones) in your daughter-in-law's appearance. For example, commentaries along the lines of, "Oh, you still have some pregnancy weight to lose," should be kept to yourself.
Don't call every day
Yes, I know, it's a sign of caring and shows interest, but daily phone calls to your son/daughter become a nuisance, sooner or later. Moreover, it's a sign of an uncut umbilical cord if parents ask their children for a report on their activities that frequently. Of course, a caring mother (especially if you have an only child) doesn't feel that way, but to a grown person trying to set up his or her own life the way they want to, it can be awkward and even annoying.
Don't judge their decisions and life choices
Suggesting that your son's or daughter's decision concerning their life partner was a poor choice is utterly inappropriate. That was a choice made by an adult, and autonomous person, and you have to respect that. "My mother-in-law has indicated multiple times that her son must be very unhappy with me because, in her opinion, I give him too many responsibilities. I don't expect anything more than usual engagement in our family life. The fact that, in her time, cooking dinner and cleaning was a woman's job, doesn't mean that it has to be like that in our family," complained one women I spoke with.
Don't comment on the division of responsibilities
This is another taboo topic: judging the division of roles and responsibilities in your son's or daughter's family. Just because you did things one way in your marriage doesn't mean that's how it's going to be in your son or daughter's family. Your son is not necessarily unhappy because he changes diapers or takes care of the laundry, and your daughter may not be unhappy because she's made a decision to work outside the home or be a housewife, whatever the case may be.
Don't impose yourself
Mothers-in-law have more life experience under their belt and naturally often want to share their wisdom or advice — even (or sometimes especially) when they are not asked for it. Of course, knowing that you can rely on your mother-in-law when you need her is very lovely — but wait to be asked, don't impose. Offers worded like, "I'll do it because I've already done it," or "I have connections," "I know better," could have the opposite of the intended effect.
Don't challenge parenting methods and decisions
The arrival of grandchildren opens a real treasury of phrases that should never come from a mother-in-law's mouth. First of all, don't question the parents' decisions or their parenting methods, especially with grandchildren present. Of course, you can disagree with them, and you can talk about it (calmly) with your child and their spouse, but remember, they don't have to accept your advice. Another thing: don't question the rhythm of the day worked out by the parents for their child (meal times, when and how often they brush their teeth, naps, etc.). Indeed, spending a few hours with a grandchild does not authorize you to undermine what the parents have been working on for weeks if not months. In the end, it's their child and it's their business how they manage that time.
Don't create a good grandma — bad parents scenario
Some grandparents can't understand that the rules the parents have worked out with their child are sacred and untouchable. If the parents decided that the child can't watch TV (or watches it only for 15 minutes), or can't go out by himself, or can't play with certain toys or devices, then that's that. Grandma will not be the best grandma in the world if, during the time the grandchild spends at her house, she will let him do all that is forbidden at home. That undermines the parents' authority. You might think this will help you have a better relationship with your grandchildren, but that's an illusion.
Don't offer food the parents don't allow
Another rule, quite similar to the previous one, concerns foods that the parents — for whatever reason — eliminated from their child's diet. Perhaps it's meat because they decided to be vegetarian. It could be sugar because they consider it harmful. It could be anything they suspect the child might be allergic to. Whatever the food and reason, all you have to do is to follow the rules. Do not fall into the temptation of thinking you'll be "super grandma" by disobeying the decisions of the parents. It will end up having the opposite effect.
*****
The best thing you can as a mother-in-law is to take care of your own life, and support your children's decisions about their own families. Remember years ago when you had no time because of the kids, work, or a million other reasons? Take average of this time now, don't meddle, and be flexible. Most grown children want their parents and in-laws to be involved in their lives and they will happily welcome your advice, help, and love if you are sensitive about how to give it.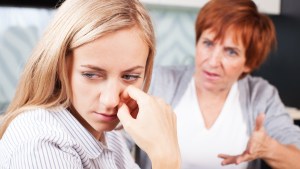 Read more:
In-laws driving you crazy? Here's what you can do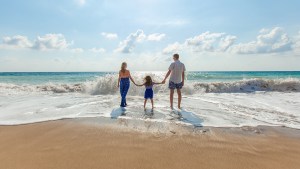 Read more:
How to love people for who they are … and not who you want them to be