These podcasts will turn your morning commute into a daily dose of inspiration plus education.
A great interview podcast is like listening in on an intimate conversation between fascinating people that you'd be privileged to meet in real life. Or it can be an opportunity to follow an author whose perspective really resonates with you, but whose blog you don't always have time to read. And of course, podcasts are such a practical choice for when you have to drive to work, clean the house, walk the dog, or cook dinner. Our eyes get tired of looking at computer screens, but listening to a podcast is effortless. They become an enjoyable part of the day and a chance for ongoing education.
There are all kinds of podcasts out there, but we rounded up six that are geared specifically toward working women looking for equal parts inspiration and information. Who knows, maybe the ideas you pick up here will guide you in your own creative ventures in the future.
https://www.instagram.com/p/BeF5-0xBCiW/?taken-by=mavenlyco
Kate Gremillion and Tallia Delljou launched the Women, Work and Worth podcast as an outreach to professional women who want to design a balanced career and life that may be off the beaten path. Kate has a background in branding and public relations, while Tallia's expertise is in career coaching and psychology. The podcast is particularly aimed at millennial women but the insights they offer would help any woman keen on starting her own business or developing skills to become more successful in her current job. Past podcast episodes covered topics like "mentors, motherhood, and making a blog," "improving your memory and slowing down," and "networking done right."
The British-born writer Ashley Milne-Tyte, who's also a New York-based public radio broadcaster, created The Broad Experience to spark "a conversation about women, the workplace, and success." She says that what differentiates her show is its focus on "women of different ages from all sorts of different backgrounds" who speak on a wide range of themes. Some of her past shows have covered burnout, communication styles, and confidence. One recent episode discussed "the hell of networking," and aimed to upend misconceptions that networking is about using people for our own advancement; instead, among other things, it's  about finding ways you can help the other person.
The No Limits podcast is great storytelling in podcast form – and the main attractions are women leaders in the business world who share the lessons they learned on the way to success, including those learned from pitfalls and mistakes along the way. The host, Rebecca Jarvis, is an Emmy award-winning journalist and Chief Business, Technology, and Economics Correspondent for ABC. If you're curious about the stories behind leading women from all fields of work – from singers, models, athletes, and actors to venture capitalists, journalists, doctors, and entrepreneurs – tune in. The podcast airs on ABCNewsPodcasts.com and is available on iTunes.
Ahyiana Angel's background as a former sports entertainment publicist to a published author gives her some insight into what it means to completely change career tracks. Her podcast promises "candid convo" for "the woman seeking encouragement, inspiration, and change in a life filled with demands on who she should be." Past episodes cover topics such as "Learn to pivot from a scientist and innovator at Spotify" and "She quit YouTube at 7 million plus views." There is also an episode on "tips for rebounding from failure" and another on "how to navigate the mental blocks." Angel refers to herself as the "chief encourager" and her approach emphasizes positivity and a can-do attitude.
https://www.instagram.com/p/BXBrH91je-u/?taken-by=beingbossclub
On Being Boss, Emily Thompson and Kathleen Shannon tackle themes of interest for women who are creative entrepreneurs. Some of the topics touch on developing a confident mindset, knowing how to establish healthy boundaries, developing work and personal routines that set you up for success, building up your tribe of women friends, and balancing work and life – including motherhood. One of the most recent episodes features an interview with Amber Rae, author of Choose Wonder Over Worry. She talks about "acting on your truth, finding internal awareness, learning from your emotions, identifying your priorities when you think you don't have enough time, and moving past your upper limit."
#TwoInboxes chat with founder & CEO of @ShooWin, a company that gets fans access to tickets: https://t.co/JhZilL3ecdpic.twitter.com/4CRZeCdFid

— ForbesWomen (@ForbesWomen) September 21, 2016
The Two Inboxes podcast is all about starting your side hustle while also holding down a full-time job or a full-time life. There is a wealth of practical advice nestled in Molly Beck's interviews with people who launched their own companies or nonprofits as a side gig and then took it full-time. As a former marketing professional, Beck has already walked the talk: she started her own side hustle, Messy.fm, a website that helps new podcasters produce, edit, and publish professional episodes. One of her most recent podcasts is an interview with Amy Peterson, a lawyer for the Detroit Tigers who started a side jewelry business that supports impoverished women from Detroit shelters.
So there you have it: six winning podcasts for working women. Take a listen and see which ones speak to you the most!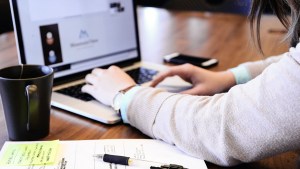 Read more:
3 Women talk about how starting their own business blessed their families