Bishop and Francis' rep in country encourage faithful to be welcoming.
Archbishop Alfred Xuereb, the pope's representative in South Korea, sent a donation of 10,000 euros from Pope Francis to a diocese in South Korea that has been impacted by the arrival of refugees from Yemen, the local press agency Yonhap reported.
Yemen has been shaken by a violent civil war since 2014. This is particularly deadly because of the involvement of rival countries in the region. Yemenis have fled the conflicts, heading especially to Malaysia, a country they can visit without a visa. Since last January, a few hundred of these refugees have moved to the Korean island of Jeju, a territory they could also enter without any particular formality.
This arrival sparked some fear among the local population. More than half a million people signed a petition demanding their expulsion. But the bishop of Jeju, Peter Kang U-il, voiced his support for the Yemeni refugees and exhorted the faithful to show tolerance and charity.
To support him, Archbishop Xuereb made an official visit to the island and sent a donation of 10,000 euros from Pope Francis to support the reception of migrants.
The archbishop's action, explained a nunciature statement relayed by Yonhap, "is in perfect harmony with the Holy Father's teachings and writings on refugees." Thus, the pope "wishes to support" the willingness to welcome these Yemeni refugees.
Archbishop Xuereb went to meet them during his visit, before celebrating Mass in the cathedral.
Since June 1, Yemeni nationals can no longer access Jeju Island without a visa. Citizens of only 11 other countries must meet this requirement for a stay on the island of less than 30 days.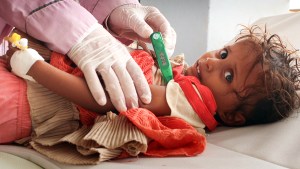 Read more:
In Yemen, war and disease conspire to produce "world's worst humanitarian crisis"
Read more:
Pope asks Catholics to share in migrants' journeys