We don't know what we don't know, but here's the start of a solution.
We don't know what we don't know and that includes how much we agree with people we think absolutely, completely, even horribly wrong, C. S. Lewis says. Writing in 1944, he says: "The blindness about which posterity will ask, 'But how could they have thought that?' lies where we have never suspected it, and concerns something about which there is untroubled agreement between Hitler and President Roosevelt or between Mr. H. G. Wells and Karl Barth."
You will find, for example, that most of the abolitionists before the Civil War held the same basic view of black people as did the southern slave-owners. Almost all of them believed black people inferior to white people. They just objected to black people being enslaved. We look at them and think: Good grief, how could they have believed that?
"Every age has it own outlook," Lewis says. "It is specially good at seeing certain truths and specially liable to make certain mistakes." And therein, he explains, lies a lesson for our reading.
Us amateurs
He wrote this in the introduction to an Anglican nun's translation of one of the early Church's classic works, St. Athanasius' On the Incarnation. You can find it now titled "On the Reading of Old Books" in the collection called God in the Dock.
Lewis warns us amateurs that we don't know enough to spot the problems with new books. We don't know the history of the argument well enough. We also don't know the current debate well enough.
He likens our reading to joining a conversation three hours after it started. We've missed too much to get the point. You've probably had the experience of joining a group when they've been talking a while and hearing everyone crack up when someone makes what you think a bland remark. Unless we've read a great deal for a long time, we'll be the person who joins the conversation three hours late.
As it happens, I know something about Lewis and I often think about this when reading a new article about him. The authors almost always make mistakes of fact and often interpret what he says in what I think misguided ways. They often arrange what they know about him to fit their own commitments. Some Evangelicals try to make this very English, very Anglican writer an American Evangelical, and some Catholics try to make this very Protestant writer a Catholic.
We have an even bigger problem, Lewis goes on to say. We don't know what we don't know. We're creatures of our age in ways we don't see. (I'd add that we are creatures also of our nation, culture, class, race, sex. We're blinder than we think.) "None of us can escape this blindness," he says, "but we shall certainly increase it, and weaken our guard against it, if we read only modern books."
He explains why. Where the modern books "are true they will give us truths which we half knew already. Where they are false they will aggravate the error with which we are already dangerously ill." The people who wrote the old books aren't any smarter than we are. There's nothing magical about the past. "They made as many mistakes as we. But not the same mistakes. They will not flatter us in the errors we are already committing; and their own errors, being now open and palpable, will not endanger us."
"Two heads," he continues, "are better than one, not because either is infallible, but because they are unlikely to go wrong in the same direction." He adds that the books of the future would help in the same way, but they haven't been written yet, so the past it is.
Lewis' rule
Lewis offers a practical instruction for us amateurs. "After reading a new book," he says, "never allow yourself another new one till you have read an old one in between. If that is too much for you, you should at least read one old one to every three new ones." So one out of two or one out of four.
I'd add two things to Lewis' instruction. First, of every three or four books you read, read one that you have to work through on a subject you might do something with. That something might just be answering your children's questions or helping with RCIA. I mean the kind of book you might have to underline, and outline, and make notes to yourself in the back. The mental exercise will do you good and help you understand the subject more deeply than you would if you just read more popular books.
Second, read a book — a good book — from someone writing from a position you disagree with. It might be the same book as the first. Don't read it to criticize. Try to understand why the writer says what he does, how his vision of the world seems right to him, how his claims make sense to him. You will probably learn things from him that people on your side won't tell you. If you have to argue with his peers, or have to explain to someone what's wrong with his ideas, you'll do much better because you'll be hitting what he actually believes.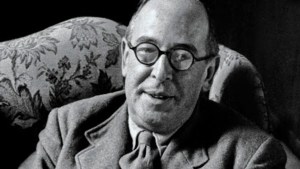 Read more:
C. S. Lewis tells you what to do with your life