"It is the FURTHEST thing from a heartless act."
Adopted children may sometimes suffer from not understanding why they were relinquished for adoption. They might question themselves, their past, and wonder if they were ever wanted or loved by their birth parents. Young Taggart Kaden Marsh will never have to agonize over that. His mom, Hannah Mongie from Utah, recently posted an emotional video on the Love What Matters Facebook page that makes her motive for adoption perfectly clear.
"I made this video so that you know how much I love you," she explains in the video, Tagg still in her arms, made one hour before she had to turn him over to his new parents. "I wanted to tell you why I made the decision to place you with your family — Gosh, you're so cute, you're making this hard!"
The video serves two purposes: firstly, it demonstrates to "Tagg" — as his birth mom affectionately calls him — how much he was loved and desired; and secondly, it shows the pain of what a mom goes through when having to part from her newborn, when she knows that is what's in her child's best interests, stating: "It is the FURTHEST thing from a heartless act."
The video begins back in March, 2016, with Mongie holding her newborn and fighting back the tears. She shares with her newborn how she and the baby's father, Kaden, met, and how excited they were with the news of the pregnancy when she was just 18 years old. However, tragedy soon struck the couple when Kaden died suddenly in his sleep, just a few days after hearing his son's heartbeat. But Mongie wanted to share with her son that although he'll never get to meet his daddy: "He loved you so much from the very, very beginning."
Mongie doesn't state in the video that despite the young lovebirds being deeply excited about the baby, they had decided to make an adoption plan before her boyfriend's death, sharing with Scary Mommy: "We were both young with little to no college or work experience, so we decided together to choose an adoption plan. We both felt an immense amount of peace about it, so we started to look at families."
Despite their initial plan, Mongie still struggled with the decision to continue with the adoption process after Kaden's death. But after a few months of lying in bed, she realized: "He was not his father, and he needed a chance at the life he deserved." Mongie opted for an open adoption — where the birth mother still receives news about her child, and in some cases gets to visit their baby in varying intervals.
Hannah comforts her fussy Tagg, continually telling him how much he is loved, saying: "I made this decision purely out of love." Behind the tears she tells him how his new mom, Emily, has become her "best friend." In her own heartache she selflessly adds how she's "so excited for her," his new mom.
Mongie's Instagram pages are packed with pictures of her handsome little boy, with Mongie by his side, as the now 21-year-old shared with KTVU news that she gets to see her little boy nearly once a month, sometimes more.
"Rather than 'giving him up' or 'away,' I just adopted his entire family into mine. Including his extended family. We just grew, and everyone loves each other as if we've always been family," she explained on TV.
Brad and Emily Marsh, who have also adopted two other sons, Carter and Lucas, place great value in open adoption. Emily also told KTVU that: "Having our boys' birth mothers so involved in their lives means they will never have to wonder if their birth moms loved them, they will never have to feel abandoned." The mom-of-three added:  "They are all wonderful mothers and will always be our boys' first mothers."
Although Mongie doesn't get to spend every day with Tagg, she feels incredibly lucky, with a caption on one of her photos saying: "He is the reason I love God and the reason I have so much love for Jesus and for the Atonement. I will never be able to express to him how grateful I am that he became apart of my life."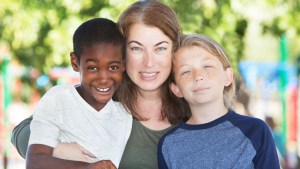 Read more:
Do you believe these 5 myths about adoption? (VIDEO)