After red and white martyrdom comes this type of martyrdom.
The word "martyr" originally derived from the "Greek word martus [signifying] a witness who testifies to a fact of which he has knowledge from personal observation." In Christian usage this was at first applied to the apostles, who witnessed first hand the life of Jesus Christ and his resurrection.
Later on in the first centuries of the Church the term was used exclusively to denote those holy men and women who gave witness to Christ by shedding their blood. As the Catechism of the Catholic Church states, "Martyrdom is the supreme witness given to the truth of the faith: it means bearing witness even unto death. The martyr bears witness to Christ who died and rose, to whom he is united by charity. He bears witness to the truth of the faith and of Christian doctrine. He endures death through an act of fortitude. 'Let me become the food of the beasts, through whom it will be given me to reach God.'" (CCC 2473)
Over time, however, the Church reflected on the original meaning of the word martyr and recognized different kinds of martyrdom to express other ways of reaching heaven; ways in which a Christian could faithfully witness to the Gospel without being killed for it.
An ancient homily from Ireland, written around the end of the 7th century, gives a perfect summary of the three types of martyrdom.
Now there are three kinds of martyrdom, which are accounted as a cross to a man, to wit: white martyrdom, green and red martyrdom. White martyrdom consists in a man's abandoning everything he loves for God's sake, though he suffer fasting or labor thereat. Green martyrdom consists in this, that by means of fasting and labor he frees himself from his evil desires, or suffers toil in penance and repentance.
From this account, as well as other writings, white martyrdom is typically defined as being persecuted for the faith, but never shedding any blood. It consists of living a life boldly for Christ, yet never being asked to die for it.
Green martyrdom, on the other hand, is more specific and focuses on extreme penance and fasting out of love for God. This type of martyrdom is usually associated with the hermits of Egypt, who greatly influenced Irish monasticism. This accounts for why many Irish monks sought out places of extreme solitude and harsh weather; the monastery atop Skellig Michael being a perfect example of both.
Red martyrdom, of course, refers to giving one's physical life, bearing witness unto death. Red in this case is associated with the shedding of blood.
These three martyrdoms represent different paths to heaven, but all share one thing in common: a heart on fire with the love of God. One could even say these are "three paths of love," ways that we can express our love of God and his mercy toward us.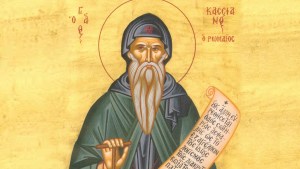 Read more:
Who were the Desert Fathers and why do they matter?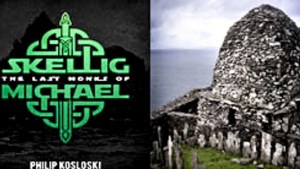 Read more:
On Star Wars and 'The Last Monks of Skellig Michael'