My children aren't animals to be trained, but human beings to be guided and loved.
When my second daughter, Charlotte, was four, we took advantage of Florida's free preschool program and enrolled her at the only preschool in town — a tiny Montessori school.
This was my first exposure to Montessori, and I don't mind admitting that I thought they were crazycakes. There was a series of parent education nights throughout the year where we learned about the Montessori method and ways to incorporate it into our own home, and I left the first few meetings feeling baffled, skeptical, and more than a little amused.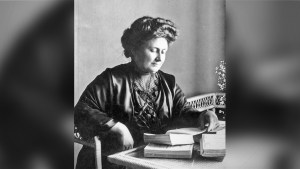 Read more:
How a Catholic doctor from Italy started a school that's become a sensation in the US
But as time went by, I began to see a difference in Charlotte. She began to spend longer periods of time drawing or playing without asking for help or approval. She started to take initiative in putting away her toys and her clothes, and became totally absorbed in Mass each Sunday. The change was subtle but persistent enough to convince me to pay a little more attention at those parent education nights.
I started to realize that Montessori has a dramatically different approach to teaching children that is apparent in every aspect of Montessori education, but nowhere is it clearer than in the language they use. This article in Motherly highlights 7 key phrases that Montessori teachers use, and explains how those phrases are a gateway to understanding Montessori philosophy.
The focus on process over product is a key tenet of Montessori. We avoid telling the children "good work" or "your work is beautiful" and instead comment on how they concentrated for a long time, or how they wrote so carefully and their work could be easily read by anyone. Praising your child's hard work, rather than his results, helps instill a growth mindset where he believes he can improve through his own efforts.
The idea of "process over product" is central to understanding the way Montessori teachers approach children, and it's not limited to the work they do. Their behavior, their questions, their problems — everything revolves around supporting children as they learn how to work, how to behave, how to solve problems, and how to develop independence.
At Charlotte's request, I moved some place settings to a low cabinet so she could help set the table. I learned to bite my tongue when she spent long blocks of time trying to sweep or vacuum, knowing she was figuring out how to do a task instead of being stubborn or recalcitrant. I stopped praising her work and started praising her working. But most importantly, I stopped conflating her with her behavior.
In fact, I stopped saying things like "you're being mean" or "you were good today." I started saying, "that was unkind" or "that was thoughtful." I began to address conflict and misbehavior in a way that first acknowledged the inherent goodness of my children before identifying the wrongness of their actions — and the difference was astounding.
They stopped crying and pouting when I corrected them, and started showing genuine remorse. Their behavior began to improve, little by little. But the really astounding change wasn't in them–it was in me.
Read more:
Can't afford a Montessori school? Try the toys!
I started being a parent instead of just parenting at them. I stopped getting annoyed with my kids for everything and started taking the time to watch them so I could understand the things they did and why they did them. I realized that most of the time, they weren't being mischievous or naughty. They were trying to learn how to do things, from pouring water into a cup to navigating social interaction. Their messes were the result of still-developing motor skills, and they needed to make them so they could learn from them. Their arguments were often motivated by a primal sense of justice that needed to be formed, not stamped out.
My kids aren't in Montessori schools anymore, but I will forever be grateful for the lessons I learned from their short time there. That simple concept of "process over product" revolutionized both the way I parent and who I am as a parent, by showing me that my children aren't animals to be trained but human beings in need of guidance and love.