No ... but also, yes.
Social media blew up last week over this Facebook post by a man named John Hoxie, in which he relates a conversation he had with a friend about the age-old division of household labor.
la suite aprés cette publicité
[protected-iframe id="72f582f989aa6d2ff37af7749fce61d9-95521100-74303997″ info="https://www.facebook.com/plugins/post.php?href=https%3A%2F%2Fwww.facebook.com%2Fphoto.php%3Ffbid%3D1459400030806598%26set%3Da.282940971785849.65727.100002098461328%26type%3D3&width=500″ width="500″ height="736″ frameborder="0″ style="border:none;overflow:hidden" scrolling="no"]
la suite aprés cette publicité
I appreciated the gentle but direct way Mr. Hoxie expressed why he doesn't consider sharing the household chores "helping" his wife. He told his friend that he didn't "help" his wife clean the house because it was his house too, and he also needed to clean it — same with the cooking, dishes, laundry, and children. I particularly appreciated his emphasis on the fact that the children were theirs, not hers, and his job was not to help her with them but to be their father.
la suite aprés cette publicité
Read more:
Lasting marriages are possible when you stop chasing happiness
However, I had a hard time appreciating the approval over at Scary Mommy, which was less enthusiastic than it was sanctimonious.
la suite aprés cette publicité
Hallelujah, and thank you, fine sir. I have chosen a partner who does not hesitate to do whatever needs to be done. Sometimes he carries a bigger load and sometimes I do. It's not a contest. We are not keeping score. We're parents and we have a family —  there are responsibilities that need to be taken care of. But I can't tell you the number of times I've been told how "lucky" I am for all that he does, regardless of the fact that I also have a full time job and fully participate in all that is our life together. Why is that an expectation of most women?
Well, good for you for having effortlessly found a dynamic that works. But there are a couple of things going on here that we should talk about before getting our feminism all riled up, yeah?
First and foremost, people's expectations in marriage are dramatically shaped by their families of origin. Although cultural appreciation for men doing dishes has gained traction in the past few decades, this was absolutely not the case 50 or 60 years ago. Fifty years before that, the idea of a man doing any kind of housework was unheard of. If a spouse's parents are older, or were raised by older parents themselves, the idea of sharing domestic work equally is less likely to have made its way into the family dynamic.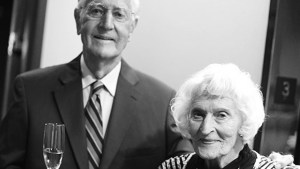 Read more:
Long marriage, beautiful life
Second, the author has a full-time job. Not all women have official full-time jobs — some work from home like me, some don't work for compensation at all, some work weekends, some homeschool. Every family has their own work/life balance, and that balance obviously effects the way household chores are divided up.
la suite aprés cette publicité
Third, let's talk about keeping score, shall we?
la suite aprés cette publicité
Early on in our marriage, my husband and I had a terrible time with the "keeping score" thing. We did not come from families with similar divisions of domestic duty, and we both thought the other was … well, wrong. So we kept score, only we tallied the score differently according to what we thought the others' job should be. While I felt like each dish I learned to cook contained myself as sacrificial lamb, he felt like he had martyred himself on the altar of the ironing board. He wasn't wrong, either — but neither was I.
Marriage involves dying to self in a visceral way. We had to learn to sacrifice for each other without blaming each other. I've heard enough stories from friends to know that this is a pretty universal early-marriage phenomenon, and it doesn't mean the marriage is doomed or someone is wrong or the patriarchy must burn. It just means that in a family, especially with kids, there's a lot of work to go around — too much, usually.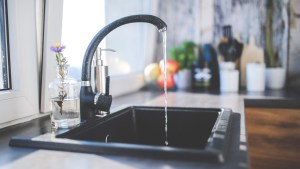 Read more:
The dishes CAN'T wait: Why chores are important for everyone in the family
So yeah, I think I'm lucky to have a husband who helps out. If I gave him a "honey-do" list he'd light it on fire, but he mops the floor when Saturday errands run long and scrubs the shower when I forget. He makes me rest after dinner and takes care of the dishes, and always stays up nights with crying babies. Yes, he's their father. He's also my hero, because he sacrifices his sleep for mine.
la suite aprés cette publicité
I think my husband is lucky to have a wife who's willing to help out, too. I refuse to iron and habitually shrink shirts, but I learned to cook everything he loves — including his birthday dinner, when I pour cognac on a chicken and light it on fire. I pay the bills and balance the budget, and take on extra work where I can to ease the burden on him. And I'm his hero, because I make time to go out back and fight him with escrima sticks.
Figuring out how to share the load is one of the hardest and most essential parts of marriage. While it's never okay for a man to dismiss his own responsibility in a shared household as "women's work," it's also not okay for spouses to take each other for granted. Life would be overwhelming if one person had to shoulder all the responsibilities alone — aren't both spouses lucky they have each other to help out?