Our resident nutritionist interviewed her children about eating right and received some adorable and smart responses.
People always ask what I do to get my kids to eat nutritiously. Truth is, I've always exposed them to real food, rather than "kids' food" like mac and cheese, hot dogs, chicken nuggets, pizza. Not to say they don't get those foods, but they aren't technically "meals" — they're more like snacks or treats.
la suite aprés cette publicité
Our kids have always eaten what my husband and I eat, sometimes with little improvisations like extra fruit. Even with exposing them to real foods and teaching them why they should eat them, we still have the typical kids' eating issues. One day they love squash, the next day it makes them gag. My advice: eat it yourself! Kids want what their parents seem to be enjoying. Explain to them that healthy foods make them fast, smart, strong and creative, and the reason you eat it is because you want to have the energy to keep up with them!
la suite aprés cette publicité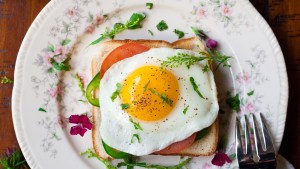 Read more:
5 Reasons to add more eggs to your diet every day
When my oldest daughter was in kindergarten, she decided I was a "famous cooker." My children observed me taking pictures of food and talking a lot about it, so she determined that's what I did. Over the past year, we've talked more and more about what a nutritionist is and does. They're funny because they have their own ideas that they've created in their heads about what it means to be a nutritionist. Here are some of their thoughts about what I teach:
la suite aprés cette publicité
What does mommy do for work? 
4-year-old: Work out
la suite aprés cette publicité
5-year-old: Nutritionist stuff
7-year-old: Help keep people healthy
What's the best lesson mommy has taught you about food?  
4-year-old: To be healthy, to protect children from eating junky.
la suite aprés cette publicité
5-year-old: It's important to eat fruits and vegetables every time you eat.
la suite aprés cette publicité
7-year-old: Always eat fruits, vegetables, and protein in a meal.
What would you tell someone to eat for dinner?
4-year-old: Chicken, broccoli and rice
5-year-old: Dinner salad and the really good chicken soup, like chicken noodle soup with vegetables
la suite aprés cette publicité
7-year-old: Chicken, carrots, strawberries and potatoes with oil, salt and pepper
What does mommy pack in your lunch?
4-year-old: Goldfish crackers and cucumbers and peppers and string cheese
5-year-old: Cheese crackers from Sprouts, water, peppers, turkey pepperonis, and if I'm lucky, Mommy's homemade muffins (recipe below!)
7-year-old: Goldfish crackers, string cheese, a Zbar, strawberries and carrots and nuts
What's your favorite healthy snack?
4-year-old: Rice. I want to eat rice and quinoa all day.
5-year-old: Organic tortilla chips and cottage cheese
7-year-old: Fresh peaches and cucumbers
If you could give other kids advice about eating nutritious food, what would you say?
4-year-old: Don't forget to eat all your meals. You have to eat all your dinner, especially your vegetables. I love Brussels sprouts! Just don't eat junky. If you eat good, you can have some coconut ice cream afterwards. You know you have to eat good if you want your parents to give you a treat. So listen to your parents!
5-year-old: Try not to eat all junk. Eat your colorful foods because they help you not get sick, so you don't have to go to the doctor and get shots.
7-year-old: Always make sure you have protein, fruits and vegetables, and two snacks, like crackers or chips. Eating kind of healthy food will make you faster and stronger.
Mommy's Homemade Muffins (makes 12 muffins)
Ingredients
1 1/2 cups white whole wheat flour or whole wheat pastry flour
1 teaspoon baking soda
1 teaspoon cinnamon
1/4 teaspoon salt
1 cup shredded zucchini (about 1 medium zucchini)
1/2 cup pure maple syrup (or honey)
1 teaspoon vanilla extract
2 tablespoons organic butter softened
1/3 cup unsweetened applesauce
1 egg
1/4 cup unsweetened almond milk
1 ½ cup fresh or frozen blueberries
Instructions
1. Preheat oven to 350 degrees F. Line a 12-cup muffin pan with nonstick cooking spray or line with muffin liners. Either way I recommend using nonstick cooking spray. This guarantees that the muffins will not stick to the liners or the pan.
2. In a large bowl, combine the dry ingredients: flour, baking soda, cinnamon and salt; set aside.
3. In a separate medium bowl, combine the following wet ingredients: zucchini, maple syrup, vanilla, butter, applesauce, egg and milk until well combined. Add to dry ingredients and stir until just combined. Gently fold in blueberries.
4. Evenly distribute batter among muffin tins, filling about 3/4 of the way full. Bake for 19-22 minutes or until toothpick inserted into the middle of the muffin comes out clean. Cool on wire rack for 10 minutes, then remove muffins and transfer to wire rack to finish cooling.